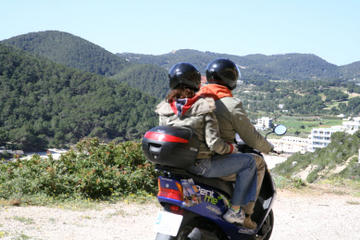 Palma de Mallorca is one of those exotic sounding locations that everyone wants to visit at least once during their lifetime but, sadly, many never get a chance to and thus never get a chance to see any of the many Palma attractions available to all ranges of tourists.
Of the many things to do in Palma, scooter rides may seem to some to be the last thing to think about but of the many Palma activities this can turn out to be one of the most entertaining and relaxing at the same time, offering a chance to those who prefer the outdoors to recharge their batteries without consuming too much physical energy in the process.
The greatest advantage offered by scooter rides is that, compared to the standard Palma de Mallorca tours, with this Palma activity, tourists receive all the necessary equipment, such as helmets and a lock for parking the scooter securely, and get to establish their own itinerary, at their own pace, whether they choose to drive along the coast and visit La Seu, known also by the name of the Cathedral of Santa Maria, the Royal Palace of the Almudaina or the Bellver Castle, or go on an adventure outside of Palma on to the coastal roads in Mallorca and explore thus the largest island of the Balearic Islands.
Finally, the great thing about this opportunity is that it occupies only as much time as you wish to invest into it, leaving you plenty of extra time for other possible fun Palma activities.
To know more about this tour, please visit: 
Palma de Mallorca Scooter Tour