Walk into the ancient medieval civilization at the old town of Alcudia. Enjoy the peaceful atmosphere and get the feeling of the bygone age on the quaint streets.
Alcudia was build two miles from the shore to protect the town from the pillaging pirates. It is an entirely revived walled city with relics of some Roman houses and an amphitheatre.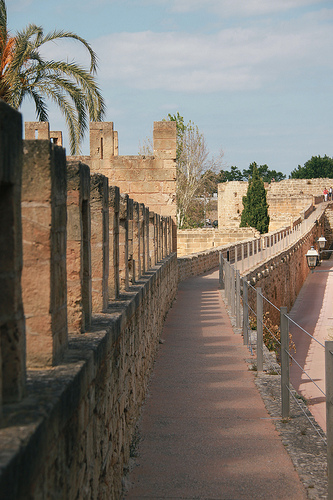 This city has one of the best markets in Mallorca and has some of the finest traditional fiestas alongside classical music festivals. The picturesque town can be explored either by walking or by car or a bicycle. Savour the traditional Mallorcan food at the small cafes, bars and restaurants.
Just a few miles out of Alcudia lies the 'Yannick & Ben Jakober Foundation' - an art gallery with a sculpture garden. Also, twice a year Alcudia hosts bullfighting in the arena on July 25th (Saint Jaume) and August 15th (Mare de Déu d'Agost), the two traditional annual fights are well attended.
To visit this lovely town you can get one of the sightseeing tours arranged by the Tourist office or just wander by yourself with the help of the map. Every Wednesday and Friday there are free guided tours arranged by the local guides.
Also, enjoy a different experience while visiting Alcudia and book this 20-minute
paragliding
 experience with a professional instructor.