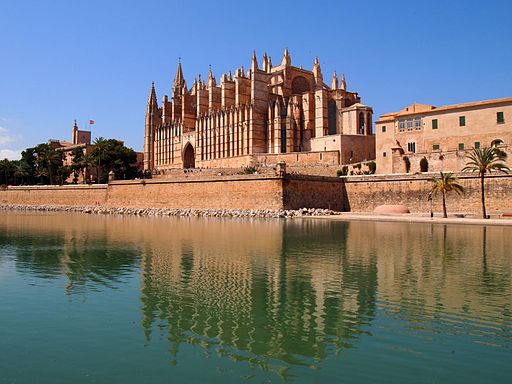 As it rises out of the sea like a revelation, the ecclesiastical Cathedral of Santa Maria of Palma gazes proudly at the cityscape of Palma. Built atop an Arab mosque, the Gothic influenced architecture of the Palma Cathedral was first initiated by King James I in 1230. However, the soaring height of the naves achieved finality only three hundred years later in 1601. Even today, the ongoing historic preservation of the architecture witnesses small renovations from time to time.
The construction of Palma Cathedral comprises of three naves. King James I, the royal behind this elaborate sculpture and King James III are laid to rest in the Trinidad chapel which is also the main nave. To experience the Cathedral must-see features and highlights, visit the main door and south door or Mirador for their artistic decorations by Guillermo Sagrera. The Mirador is a splendid architectural place, especially its geometrical and vegetal motifs. The main door is no less worthwhile with its four regal columns.
Also applaudable are parts of the cathedral designed by  famous twentieth century architect Antoni Gaudi and ceramic mural and stained glass windows by Miquel Barceló.
The Palma Cathedral contains a small museum where the original parts of the cathedral and the Trinity Chapel are on display. Tourist should also take note of the Cathedral tower with nine bells. The largest bell called "N'Eloi", measures 2 meters in diameters and weighs 4,517 kilos.
When to Visit
:
From Oct 1 - Oct 31
Monday to Friday - 10:00 AM to 5:15 PM
Saturday - 10:00 AM to 2:15 PM
From November 2 to March 31
Monday to Friday - 10:00 AM to 3:15 PM
Saturday - 10:00 AM to 2:15 PM
From April 1 to May 31
Monday to Friday - 10:00 AM to 5:15 PM
Saturday - 10:00 AM to 2:15 PM
From June 1 to September 30
Monday to Friday - 10:00 AM to 6:15 PM
Saturday - 10:00 AM to 2:15 PM
Image Credit: Creative Commons/VagabondQuest
Video