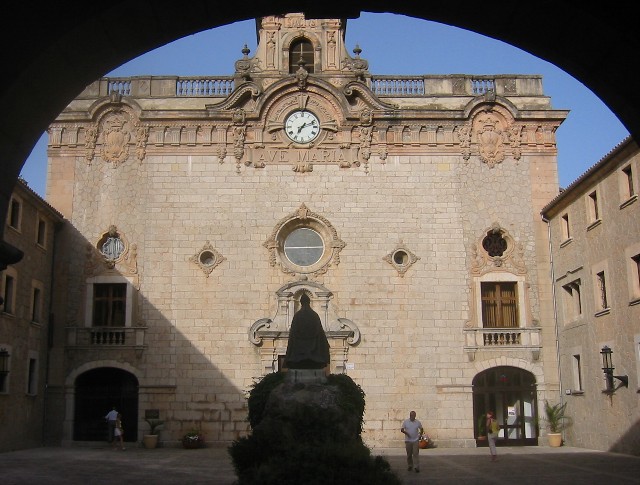 Staying in a monastery lends the most singular divine experience that no star hotel can offer. Even if you are not an ardent religious believer, appreciating the quiet beauty of a monastery will come naturally, if you stay at one. Considering, the size of Majorca, the island has a surprisingly large number of hotel-converted monasteries.
Tossals Verds: Tossals Verds is a refuge located in the country estate of Tossals Verds in SW Escorca and is owned by Consell de Mallorca. It provides dormitory style accommodation with 8 or 12-beds in each room. Shared washing room and communal dining room truly urges our spirit of sharing which is probably missing in extravagant hotels. The staff will help you with the walking routes, bus and train schedules and with any other help needed. Book your stay at least 5 days beforehand.
Santuari de Lluc: Santuari de Lluc is the largest monastery accommodation in Mallorca and is located in the very small municipality of Escorca. Situated at an height of 525 metres, the monastery proffers panoramic views of a number of high mountains, particularly Puig de Massanella. It contains 129 cells, each affording resting place for one to six visitors, depending on single, double, quadruple or 6-bed room occupancy. Although this monastery does not serve any religious purpose today, it still has the resident boys' choir sing in the front of monastery's statue of a Black Virgin (La Moreneta). Also, it is frequented by many day trippers who love the deliciously gorgeous food at its four restaurants.
Santuari del Puig de María: The Santuari del Puig de Maria, offering splendid views of Pollenca, is one of the oldest religious places on the island that started off as a small oratorio. Today it is a low-budget monastery accommodation atop the Puig de María hill where visitors can rest for a € 25-30 per night. The 12 youth hostel style guestrooms come with very basic facilities such as writing desks in rooms, shared washing room, communal dining room and a bar service providing snacks.
Other equally impressive monasteries worth considering are Santuari de Sant Salvador, Santuari de Cura, Ermita de Bonany, Santuari de Monti-Sion and Castell de Alaró.