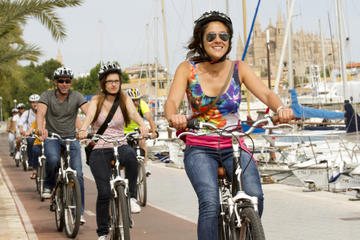 Set a day for a lovely bike tour around the coastal paths and historical areas of
Palma de Mallorca
. After enriching your visual knowledge about the city's landmarks and stories, transfer to a kayak and leisurely traverse through the calm waters as you look over the beautiful Bay of Palma.
Come to you scheduled meeting time and place, and your guide will be waiting with your bike and helmet. A slow, comfortable pedaling pace is the best way to hear facts and trivias about the town and buildings. You will zigzag through the streets of Palma de Mallorca Old Town after breezing along the harbour and waterfront roads. The Old Town has a reflective Arabic influence. Squeezed in between are narrow walkways mostly populated by tourists. Charming houses line the streets, some are converted into museums or other discreet businesses. Proceed to Parc de le Mar and continue on ride alongside the city walls.
Marvel at the grandeur of Palma Cathedral La Seu. Up close, this massive structure bears Catalan Gothic detailing and overlooks the Mediterranean Sea. The church interiors were initially handled by famed architect Antoni Gaudi, who specializes in Catalan Modernism, during 1901.
As you head closer to the water, bike along Es Molinar and Poltixor, which were fishing villages at one time. You next stop is Ciudad Jardin Beach for the kayaking part of your tour.
After briefing and instructions, board your kayak and slowly paddle through the blue sea. Your guide will be close and your trip is perfectly safe and monitored. See Palma Beach from a different perspective, all the way from the middle of the bay! Your party will head on to Cala Estancia and will have a chance to drink up the complimentary water or softdrink provided. Dive for a quick swim before approaching the shores. The tour will finish off where you started, back to Ciudad Jardin Beach, then pedaling back via bicycle to Palma de Mallorca.