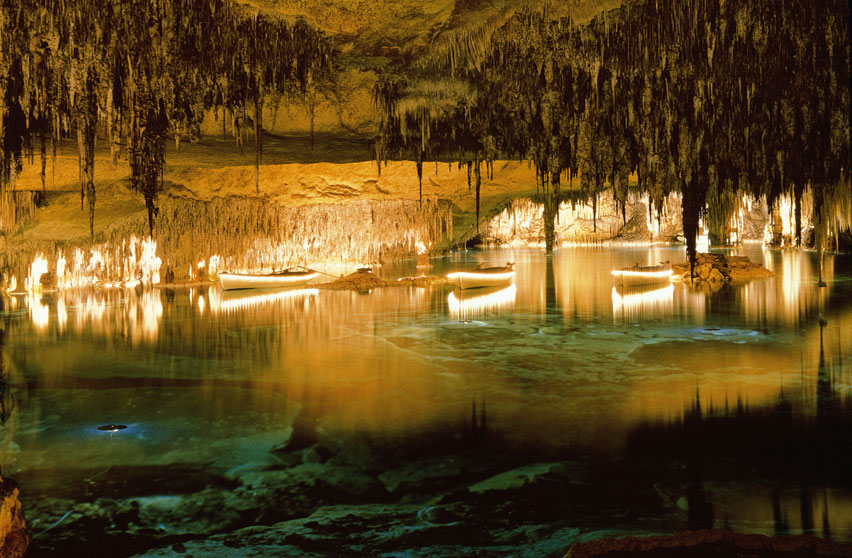 Discover the most spectacular caves of Mallorca and Majorica Pearl Factory during this 5.5-hour private tour. Marvel at the elegance, wealth and unrivalled beauty of pearls before proceeding towards one of the largest caves in Mallorca. A knowledgeable personal guide will accompany you, giving a commentary while you stare in awe at the amazing rock formations.
The tour starts with a pick-up from your hotel at a time convenient to you. Or alternatively,  meet your personal guide at the Palma de Mallorca cruise port. Drive inland through the lush green countryside of Mallorca by air-conditioned minivan. During travel, feel free to ask the guide as many questions as you want to, about the city and island of Mallorca. As it is a private tour, it allows you to digress at times and ask questions without distraction.
After some time, arrive at Manacor, the home town of well-known tennis star Rafael Nadal. Visit the pearl factory of Majorica, to see how man-made pearls are produced and can buy some pearls.
The final part of the tour is a visit to Mallorca's best natural wonders: the Caves of Drach. You will be enchanted as you marvel at the awe-inspiring formations, stalagmites, and stalactites and see Europe's largest underground lake; Lake Martel.
After a leisurely walk through the winding caves, settle in a natural amphitheatre to watch a short classical concert performed by a handful of musicians on a boat in Lake Martel. After the concert, you may cross the lake by boat to admire the beauty of the caves or alternatively, you can continue your tour on foot. You are then driven back to your
Palma hotel
or in Mallorca's city centre.
Click the link to check the pricing & availability of the 
Private Tour: Mallorca Caves of Drach and Majorica Pearl Factory
.