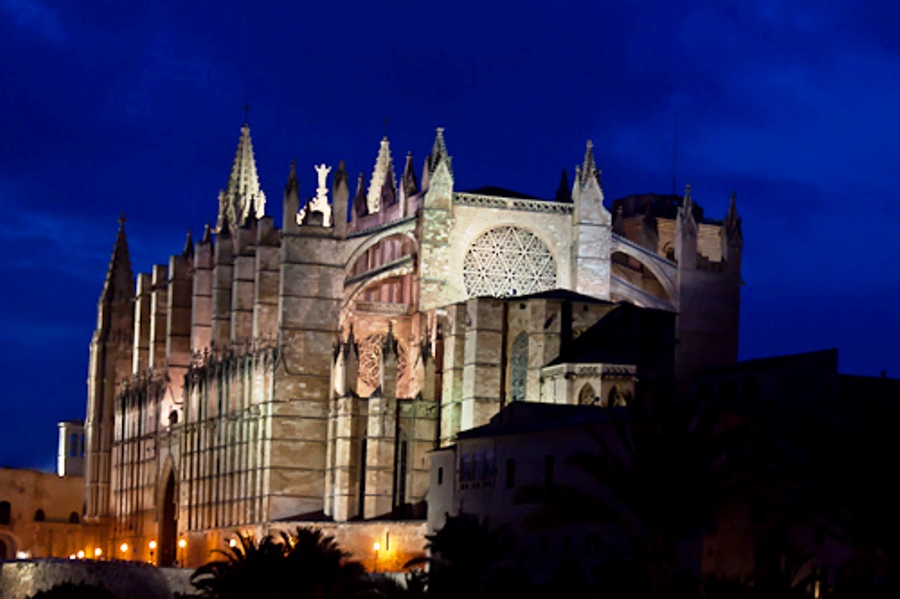 Palma de Mallorca, the dazzling resort city is steeped in a rich historic ambience. Set in Mediterranean environs the city is a very popular tourist destination. As you visit Palma there are myriad touring options. Look out for the Night Walking Tour in Palma, where you can explore the city's main attractions under the starlit skies.
Traverse through the Palma's old city centre, starting at 7:30 pm. Follow the meandering cobbled streets and indulge in the city's best-kept secrets with the insider knowledge of your guide.

The Palma de Mallorca Cathedral or 'La Seu': The Gothic Roman Catholic cathedral is one of the main attractions in the city. The magnificent architecture incorporates all artistic styles of the Middle Ages.

La Almudaina Royal Palace (Palau de l'Almudaina): The former king's palace is a must-visit for all visitors. Situated just opposite the castle, and currently used as a museum. The castle is still the official residence of the King of Spain during summer.

La Lonja de Palma de Mallorca: Gothic architecture is one of the main tourist attractions and one of the most important monuments of Mallorca (Majorca). It was declared as a UNESCO World Heritage Site in 1996.

Visit the Es Baluard fortress, a popular museum, and the Born, a perfect promenade. Head for the placa Mercado, former food market, the old townhouse and the parliament.

After a pleasurable tour, head for the tapas taverns. Absorb the night atmosphere, and be guided to the best tapas restaurants and bars.

The Palma Night Walking Tour, is an excellent value for money and makes a perfect romantic experience for couples. Book the tour and spend quality-time with your family.